Saturday 29 August 2015 – Chelsea 1 Crystal Palace 2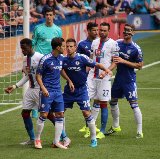 Always good to welcome our impoverished south London neighbours to the Bridge, another small team who delight in getting one over on us, even more so as defending champions. A predictable starting lineup, Cahill and Zouma on centre back duties with JT suspended and Ivanovic with the captain's armband. Falcao, Remy, Ruben Loftus-Cheek and new boys Baba Rahman and Kenedy among the substitutes on the bench.
A pretty quiet first few minutes of the game, both teams happy to pass the ball around attempting to probe and exploit each other's weak areas. The nippy Pedro looking lively for us and the pie eating Sako barging his way past Ivanovic.
Costa was his usual no nonsense self, getting in the thick of things, both with goal threats and his customary argy-bargy, but it was Zouma who had the strong penalty shout when his customary bionic leap was curtailed by some furious shirt pulling by the Palace defender. Needless to say, penalty not given!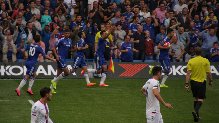 But while Palace were looking quicker on the ball and slipping round our defence with unnerving ease, some last ditch clearances and blocks kept the scores level. We had our chances though, but at half time it remained 0-0.
A Costa penalty shout early in the second half was quickly dismissed, he appeared to go over very easily from where I was sitting. But a positive start to the half, our Spanish dynamic duo trying to make things happen and we really should have taken the lead and gained the momentum at that point. Instead, the upstart visitors had the audacity to split our defence apart, the lardy one finishing off the move and putting Palace one up.
Within a couple of minutes Jose had replaced Willian with Falcao and Azpilicueta with Kenedy in the number 16 shirt, shortly followed by Matic making way for RLC.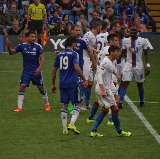 With the injection of youthful pace, we needed to push for that equaliser but Palace were not going to roll over easily. As we approached the final 10 minutes of the game a superbly whipped in ball from the flying Spaniard found Falcao's coiffed head as he guided the ball past the Palace keeper's near post. A superb piece of skill and a just reward for our efforts.
But as we were all still celebrating the goal and willing our boys to go on and pinch a winner, as we would fully expect to do, the visitors simply sliced open our defence with Ward heading in a simple finish from close range.
Undeterred, we soldiered on, the youngsters doing their bit, but even 5 minutes stoppage time wasn't enough to pull something out of the bag. FT 1-2.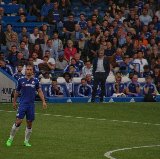 And while the Croydon massive celebrated like they'd won the Johnson's Paint Trophy, we had to reflect on another under par performance, perhaps still hung over by pre-season globetrotting or lacking motivation? Either way all we could do was rue the missed chances and the lost opportunity to kick start our season after last weekend's heroic efforts at West Brom.
So, as we head off into the international break and with the distracting transfer window behind us, let's hope we return with a reinvigorated and refocused team ready and willing to fight for our title.
Win or lose, up the Blues!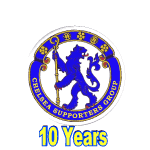 Posted by Chelsea Debs
Debs can be found on Twitter as @cfcunofficial and at cfcunofficial.com
You can read all Chelsea Debs 'Match Reports' here
DISCLAIMER: All articles written for the Chelsea Supporters Group 2005 (CSG)  are those of the author and do not represent the views of the CSG. The views and opinions expressed are solely that of the author credited in the article. The CSG do not take any responsibility for the content of its contributors.