Chelsea v Sunderland – Match Summary
Saturday 19 December 2015 – Chelsea 3 Sunderland 1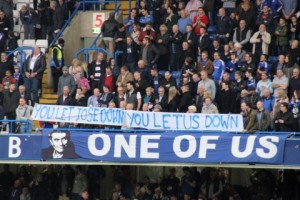 Difficult to know where to begin, an emotional few days following the sacking of Jose Mourinho on Thursday. How would the home crowd react towards the club's owner Roman Abramovich, palpable discordant Michael Emenalo and the board, but mostly the players, some feared to be complicit in Jose's downfall?
Steve Holland was in charge of the day's outing assisted by Eddie Newton, with old friend Guus Hiddink watching on ready to step in and take up the reins until the end of the season.
In team news, Eden Hazard did not feature, with many feeling that he'd bottled it and ruled himself out fearing the backlash, especially after his shenanigans at Leicester last Monday. With Pedro starting in his place, it was a familiar lineup; Courtois in goal, Ivanovic, Zouma, JT and Azpilicueta across the back, Matic and Fabregas on defensive midfield duties, with Willian, Oscar and Pedro ahead of them and Costa up top. On the bench were Begovic, Cahill, Baba Rahman, Mikel, Ramires, Traore and Remy.
With a mixture of applause and boos for each player as they were announced, contrasted with resounding cheers for Willian, the game soon kicked off, but not before a selection of banners were displayed in the crowd in support of our Special One and a rendition of his name as the game got underway.
And it wasn't long before the home fans were on their feet paying homage to Jose, as 'Stand up for the Special One' rung around the ground, only to be rudely interrupted by Ivanovic scoring on the pitch. A lovely corner by Willian finding the head of Chelsea's number 2, who rose like a salmon (always wanted to say that!) guiding the ball into the top corner. Great goal after just 5 minutes, as the crowd got back to singing Jose Mourinho's name.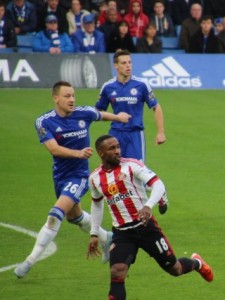 On the other side of the pitch Pedro was looking particularly lively, along with Oscar, in fact the whole team looked as if they had been hypnotised into a half decent performance, one that had clearly eluded them many times this season. So, with barely quarter of an hour on the clock we had doubled our lead when Pedro's cross-pitch pass to Ivanovic was duly returned as he sprinted into the box, taking a lucky rebound off the defender before firing the ball into the back of the net.
And while the team bonding celebrations were continuing on the pitch, the fans continued to belt out our greatest manager's name shortly followed by a perfectly timed rendition of 'Where Were You When You Were Shit' aimed at those very players who had suddenly found their form.
But while at times we looked like we were playing in an exhibition game, Sunderland were very poor, at one point Oscar just strolled through their defenders, they may as well have been rolling a red carpet out in front of him, only the keeper saving their total humiliation. We were certainly turning in a positive performance and the fans were also in good voice in support of our Chelsea, for the efforts in the pitch.
In truth we could have been 3 or 4 goals up at half time with chances from Oscar and Costa going close, but the first period ended 2-0.
Second half and with Chelsea reject Fabio Borini coming on for Sunderland they started to play with a bit more purpose. But after just 5 minutes, in a breakaway move, Oscar and Pedro linked up well and with Willian streaking goalwards as he picked up the forward pass only to be shoved over in the box by Pantilimon. Penalty, and ironically our first one this season, just when our usual penalty taker was having a day off. But up stepped Oscar who cheekily rolled the ball into the net after he dummied the keeper.
Another show of team togetherness and another rendition of 'Jose Mourinho', the crowd were certainly showing where their loyalties lie. But while we were wondering how many goals we might go on and score against this poor side, a cheaply given away free kick found Kaboul unmarked in the box as he simply nodded the ball down into the far corner for Borini to help over the line after Courtois had spilled it.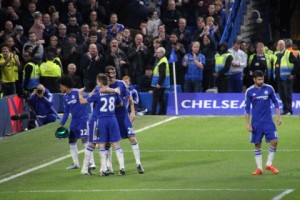 That goal certainly gave our visitors some hope and while they started to believe in themselves with Borini making all the difference, we started to panic, and for a while the home crowd were restless, reverting to the subdued atmosphere that had remained a backdrop to the support for Jose.
But thankfully we got ourselves going again and with 20 minutes left to play a shot on goal from Oscar from just outside the box scraped past the post and into the side netting.
A couple of minutes later our first substitution, Mikel on for Fabregas, who had the best game he's had in a good while, none of the wayward passing that have become the trademark of his game of late. And he went off accompanied by a considerable amount of booing, but applauded by his team mates and the bench, as he turned and applauded the fans back. A very strange moment.
Within a few minutes Remy came on for Costa, who received pretty much the same treatment, but he clearly wasn't in the mood to applaud the fans back, whether sarcastically or not. And with just a few minutes left to play, Ramires was brought on for Oscar, whose efforts were appreciated by the fans as he was applauded off the park.
Back to the game and we started to reassert our authority, Remy once again relishing the chance to show what he's made of. And Mikel was playing like a man possessed; forward passing and everything, what a guy! Even JT fancied himself in the striker's role, at one point flying forward towards goal.
So the game ended in a much needed victory, and the performance was rightly applauded by the fans, but in fairness Sunderland were pretty rubbish. But a win is a win and with it the all important 3 points that are so desperately needed right now.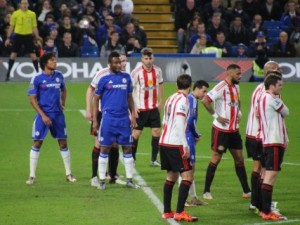 A traumatic few days and a strange game, I can't imagine I will ever witness anything like it again. I think the fans called it just about right. Collectively we showed how much we love and respect Jose for being 'one of us', and personally I find it hard to understand how the club hierarchy can so clearly go against the majority of fans wishes by sacking the most successful manager this club has ever had, and at a time when we were looking forward to a sustained period of much needed stability. But I guess that's modern football, where results, business and money come before fans and loyalty. The end of (another) era and, for me, Jose Mourinho will always be our Special One.
But what's done is now done, and we have to look to the future and support our players to get us out of the mess they got us into. With any luck those who don't want to play for the shirt and their own self pride will be shipped out and replaced by those that do.
Onwards and upwards, keep the blue flag flying high, or as Jose might say, CHIN UP!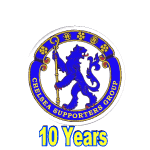 Posted by Chelsea Debs
Debs can be found on Twitter as @cfcunofficial and at cfcunofficial.com
You can read all Chelsea Debs 'Match Reports' here
DISCLAIMER: All articles written for the Chelsea Supporters Group 2005 (CSG) are those of the author and do not represent the views of the CSG. The views and opinions expressed are solely that of the author credited in the article. The CSG do not take any responsibility for the content of its contributors.