Tuesday 24th August 2016 – Chelsea 3 Bristol Rovers 2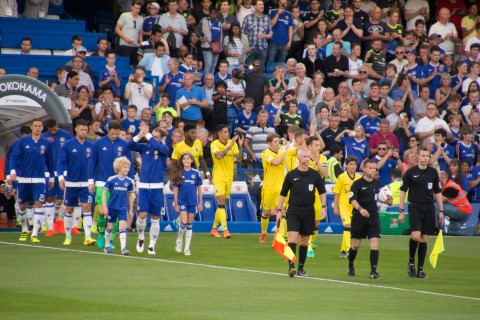 On a balmy summer evening in SW6 we hosted League 1 Bristol Rovers in the second round of the League Cup, now known as the EFL Cup. Nice to have the company of my daughter at the game and for some pre match eats and drinks at an onsite concession. There was a good buzz about the place, families supporting both teams milling around the area.
Inside the ground the atmosphere was relaxed, said families with loads of kids – lots of new supporters to help keep the fanbase thriving. And a thriving trade in the megastore too, no doubt!
In an adjusted lineup Asmir Begovic was in goal and joining captain Branislav Ivanovic and Gary Cahill at centre back positions were full backs Cesar Azpilicueta and full debutant Ola Aina. With Cesc Fabregas and Nemanja Matic holding the defensive midfield, with Pedro and Victor Moses on the flanks, it was also a first start for striker Michy Batshuayi supported by Ruben Loftus-Cheek. On the bench were Courtois, JT, Chalobah, Oscar, Hazard, Costa plus a welcome place for Dom Solanke.
It's fair to say that the early stages of the game were dominated by the boys in blue, with the fast footed Pedro and Moses providing plenty of probing crosses to threaten their goal. Batshuayi was having a good go as well. Our visitors barely managed to get out of their half and when they did we were quick to snuff out any possible threat.
It was all one way traffic but I was concerned that we weren't converting any of the many chances we were creating. That nagging doubt that your luck might not be in, especially when Ruben saw a decent strike rebound off the post. Lots of goalmouth action for the mass ranks of the travelling fans to enjoy, even though it was against them. But in saying that, the fact they hadn't conceded must have given them some hope, and fair play to their fans for remaining in good voice.
But just as we approached the half hour, we finally breached their defence. Some rugged build up play that saw RLC take possession of the ball and move it goalwards before giving Matic the short pass. His cross to the edge of the 6 yard box found Batshuayi lurking and he obligingly lofted the ball into the roof of the net. It was coming, but a bit of a relief to see that one go in.
And no sooner had we finished celebrating the first goal than we had found a second, the result of some confident passing across the face of the goal with Victor Moses getting on the end of Azpilicueta's ball into the box.
I felt the floodgates could be about to open considering the chances we had, but our visitors went straight up the other end and earned themselves a corner. And it wasn't too long before they had pulled a goal back, a free kick floated into the mix and finding the head of Hartley who cleanly directed the ball into the corner of the net past Begovic. Without challenge from our defence, it was a pretty poor from us.
That goal certainly gave their fans a boost and also gave confidence and belief to the Rovers players. Too early to be nervous but thoughts of our FA Cup defeat to Bradford a couple of seasons ago came to mind.
But five minutes before the break we managed to restore our two goal advantage when RLC received the perfect pass from Fabregas, and who in turn found Batshuayi, although marked in front of the goal, managed to beat the defender to the ball and score his second goal of the night. HT 3-1.
No changes for the Blues at the start of the second half and hopefully a chance to make our quality count. But just a couple of minutes in Rovers' hipster Sinclair had streaked away with the ball towards our goal. It needed Pedro and his legs going like the clappers to catch him up, which led to an unfortunate coming together that was viewed by the ref as a yellow card offence and a penalty, which Harrison duly converted.
We were like a different team second half, and so were Rovers, their couple of personnel changes making all the difference to their attacking options. For us, we seemed to be struggling to cope with their renewed threat as shots were starting to rain on our goal, a couple narrowly missing their intended target. We tried to get back into it, but a quality final ball was eluding us, while Bristol Rovers were getting their shots away, thankfully just off target. They were a team possessed, whereas we looked like we needed a good kick up the backside!
Coming up to the last 20 minutes and Ola Aina appeared to have a problem requiring treatment, and he was soon replaced by JT, to rousing applause from the Chelsea fans, both new and old. But not before Pedro was replaced by Eden Hazard to the delight of all the kids in the crowd. We needed something to cheer about; the Bristolians were the ones making all the noise.
Hazard's and JT's arrival made all the difference, the captain's armband changing hands and the back four swapping round to their familiar formation. The changes made a difference to the fans as well, with a timely version of One England Captain to serenade our highly capped defender.
The game opened up and we were starting to take advantage of our visitors' tiring legs. Our final substitution came with just under 10 minutes to play, when Oscar replaced Ruben, a decent enough game for him in a more attacking role.
It was a nail biting last few minutes though, with just the one goal difference, we still had plenty of work to do to make sure we didn't concede a sloppy equaliser. But thankfully we held out and our new boy Batshuayi nearly got his hat trick just before the end but he was judged to be offside. It took me a while to realise it though, still jumping up and down while everyone else had spotted the flag!
So, we march on to round 3, an away tie at Leicester on 20th September awaits. Not the most convincing of performances but lovely to see Batshuayi and Moses on the score sheet and a solid start for Ola Aina.
Onward.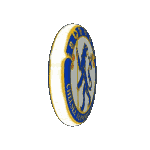 Posted by Chelsea Debs
Debs can be found on Twitter as @cfcunofficial and at cfcunofficial.com
You can read all Chelsea Debs 'Match Reports' here
DISCLAIMER: All articles written for the Chelsea Supporters Group 2005 (CSG) are those of the author and do not represent the views of the CSG. The views and opinions expressed are solely that of the author credited in the article. The CSG do not take any responsibility for the content of its contributors.