Arsenal v Chelsea – Match Summary
Saturday 24 September 2016 – Arsenal 3 Chelsea 0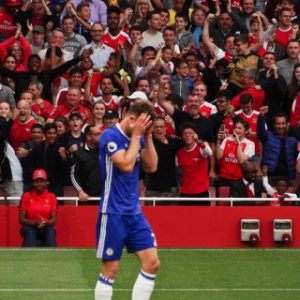 The day began so well. A lunch time visit to a quiet back street pub in north London to catch up with a few Chelsea folk, a bite to eat at a nearby cafe, and a pleasant(ish) stroll to the stadium. Inside the ground always good to see so many familiar faces as we awaited the arrival of the teams. And I guess someone has to be located near to the home fans, I just hate it when it's me! That marked the end of my pleasant day.
In goal for us Thibaut Courtois, with captain Ivanovic, Gary Cahill, David Luiz, and Cesar Azpilicueta across the back. Unfortunately JT hadn't come through his ankle injury so Luiz got the nod once again. In the middle of things was N'Golo Kante, with support from Nemanja Matic and a rare start for Cesc Fabregas. With the usual partnership of Willian and Eden Hazard on the wings, it was Diego Costa leading the line. Substitutes were Asmir Begovic, Marcos Alonso, Nathaniel Chalobah, Pedro, Oscar, Victor Moses and Twitter King Michy Batshuayi.
An untidy start to the game and it wasn't long before the usual chorus of resounding boos accompanied our fiery striker whenever he dared go near the ball. I can't for the life of me think why, I'm sure he must be kind to his mum!
I thought things were actually fairly even for the first few minutes, both sides looking for openings, but on 10 minutes it all started to go wrong. A seemingly harmless back pass to Courtois from Cahill found our centre back napping as Sanchez simply nicked the ball from him and ran towards goal like one of those needy kids in the playground. Nothing Courtois could do as Cahill, head in hands, must have wondered how that could have happened to him yet again, but this time without the fouls.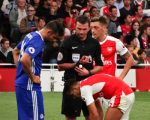 And to add insult to injury, a couple of minutes later we were two goals down. The Arsenal forwards simply walked through us like a hot knife through butter, Walcott with the final ball into the back of the net. It looked like offside from where I was standing (which of course it wasn't) but that's no excuse for our poor defending, so deep at times we could have been lined up on the goal line and still let one in! Too slow and ball watching, we were being punished, especially down the wings. That certainly wasn't in the script against a team we usually delight in beating – we'd got used to the annual outing of dishing out the humiliation, not receiving it.
With a mountain to climb so early on in the game our only hope was that there was plenty of time to go and we know what it's like to come back from 2 goals down. But we really didn't know what had hit us, our passing was abysmal, we were like rabbits in the headlights.
We did get a chance though, when a shot from Willian missed the far post by the width of a gnat's member, Costa and Hazard playing their parts. The game could have been so different had we pulled one back at that point. But we struggled every time Arsenal moved the ball forward, they were quick and decisive, while we were slow and ponderous, having to resort to last ditch tackles and fouls to stop them in their tracks.
It wasn't pretty. We had lost the plot at the back. Why was Courtois trying to play out from the back when there were no outlets and the opposition had us covered? And how on earth was Marty Feldman's love child (look him up, kids) allowed to move so quickly up the pitch with half our defence still looking over their shoulders in bewilderment, leaving Luiz and Cahill with no chance against him and Sanchez, totally outclassed and outpaced as another goal went in? HT 3-0.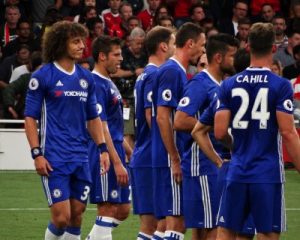 Second half and surely some changes ought to be made, both personnel and plan. Ever the optimist I was still hopeful that we could fight back, the classic game of two halves perhaps? We'd done it before. No subs to be seen though, but hopefully a right old half time rollicking from the gaffer!
We continued to knock the ball around aimlessly and sluggishly while the Gooners stuck to their game plan, quick and decisive, and pressing us whenever we were in possession. The comeback wasn't looking on the cards.
After 10 minutes of faffing about our first substitution was finally made, Marcos Alonso on for Cesc Fabregas, who wasn't able to influence the game with his usual vision. With five defensive minded players on the pitch I wasn't sure how we were going to affect the outcome, but this was the chance for Antonio Conte to try his much vaunted system of three centre backs and two wingers.
But it took a good while for us to adjust to the new formation while the Arsenal boys were continuing to exploit our indecision. And far from affecting the outcome we just seemed to be there to make up the numbers. It was becoming clearly evident to me that there was no way on this earth we were going to score one goal let alone give them a game. But at least our fans remained in good voice, as the only team in London with the European Cup, but sadly, the fight and determination of 2012 seemed a long way away from this game.
With 20 minutes left on the clock came our final two substitutes, Pedro on for Willian and Michy Batshuayi on for Eden Hazard, neither of the outgoing players having enough influence on the game, lacking the creativity needed to unlock their defence. With two up front hopefully Costa wouldn't continue to look so isolated while our train crash of a team were imploding behind him.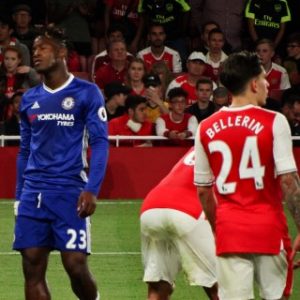 But even with the changes we didn't look like we were going to score in a million years, the only positive being that we didn't concede further, but then Arsenal didn't really have to try. The only glimmer of hope was when a beautiful long ball from Luiz found Batshuayi on a run towards goal ahead of the defenders. Sadly he wasn't able to beat Petr Cech, as our ex number 1 closed down the angles and blocked his shot.
I just wanted the game to end, to put us all out of our misery. Many of our fans were already leaving, no doubt joining the home fans in their race to the queues for the tube stations. Thankfully the final whistle blew, and I bet the home fans were as stunned at the result as much as we were! I'm not usually so down about a game, usually finding positives somewhere, but from the beginning to the end, and even before the game kicked off, our boys' demeanour and body language didn't look right and they just looked like they were going through the motions. Even the boss wasn't his usual highly animated self on the touchline.
So, back to the training ground and possibly the drawing board for our boys, with a trip to Hull next weekend to try and turn things around before yet another international break. We will be expecting much better; surely it can't get any worse?
But hey, win or lose, up the Blues!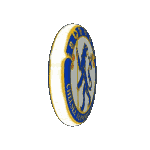 Posted by Chelsea Debs
Debs can be found on Twitter as @cfcunofficial and at cfcunofficial.com
You can read all Chelsea Debs 'Match Reports' here
DISCLAIMER: All articles written for the Chelsea Supporters Group 2005 (CSG) are those of the author and do not represent the views of the CSG. The views and opinions expressed are solely that of the author credited in the article. The CSG do not take any responsibility for the content of its contributors.