Chelsea v Leicester – Match Summary
Chelsea 3 Leicester 0 – Saturday 15 October 2016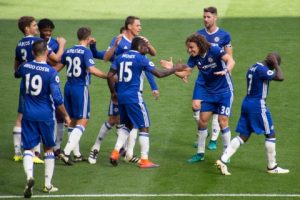 Finally back to club football after another dull international break. It's been a month since our last trip to The Bridge so always good to be back, even though it is so early in the day, I'd only just finished my breakfast before heading off to a sunny SW6!
With no returning injuries from said international duties, the teams lined up with Courtois in goal, and Azpilicueta, Luiz and Cahill in the 3-man centre back positions. With Moses and Alonso taking the right and left wings respectively, were Kante and Matic holding the defensive midfield. With the sad news of Willian's mother passing away at home in Brazil, his place was covered by Pedro, with Hazard supporting Costa as striker. On the bench were Begovic, the long awaited return from injury for JT, Aina, Chalobah, Loftus-Cheek, Solanke and Batshuayi.
With the hope that our team weren't as bleary eyed as the fans, we kicked off. A competitive start, but as we grew into the game we began to pass the ball around quickly and with ease, reminiscent of our games at the start of the season. And after just 6 minutes we took the lead. A corner by Hazard, which initially looked like one of those not even able to clear the first defender, at least from my position at the other end of the ground. But the ball was in fact deftly flicked on by Matic through the crowd of defenders before finding, who else, but goal machine Costa left on his own and allowing him to pick up the ball just outside the 6 yard box and blast it through Schmeichel, while his defence were still wondering what had happened behind them. A beautiful moment; his goal dedicated to the absent Willian. Diego! Diego!
We were full of confidence, the passing was superb, and when we did lose the ball, we were fighting to regain possession. It was a joy to watch, everyone was playing their part, fighting for the cause, not afraid to mix it up, launching long balls and switching play, Alonso and Moses providing the width to stretch the Leicester defence.
With almost half an hour played we were awarded a free kick when Huth clattered into Eden Hazard 30 yards out, an unfair battle if size is anything to go by! Up stepped David Luiz, as I wondered what version of his free kicks we would witness, either way that ball was going to be walloped! But as it turned out it was beautifully lofted over the wall, which nearly found the top corner, only for the ball to clip both the woodwork and, presumably, Schmeichel's glove as it went out for a corner.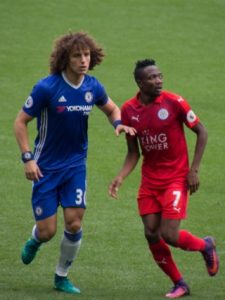 We were teasing Leicester, we were playing like a team who were determined to take advantage of their ailing defence, Luiz in particular fired up, looking more than anything like he wanted to reward us Chelsea supporters with a goal, as well as taking command of our 3-man back line, taking care of business and keeping Steptoe quiet. What more could we ask?
In truth, it was pretty much one way traffic, I had a crick in my neck with the majority of the play taking place at the other end. But hey, who's complaining with the sublime football we were being treated to. Just after the half hour and our lead was doubled. A short foray up the pitch by Matic as his through pass glided past the Leicester defenders far too easily, allowing the fouled Pedro to flick the ball up not once but twice on his way down to the ground before finding the grateful Hazard who simply nodded the ball down and skipped past the approaching keeper before slotting the ball into the back of the net, the desperately backtracking defenders helpless. Great to see him score, and his goal similarly dedicated to Willian. It was no more than we deserved.
We were in dreamland, everything seemed to fall right for us and when Costa went down in slow motion at the merest nibble on his ankle, you know things are going your way when the free kick was awarded. Another chance for David Luiz, and this time Schmeichel had to punch his powerful shot away. It was a thoroughly enjoyable and mesmerising half of football, 2-0 at the break.
Second half and no changes. But controversy from the off, as the centre ball was laid back to Luiz was lumped up to Pedro lurking just outside the box. He proceeded to take the ball down before firing a shot on goal, only for the ball to be blocked by the arm of the defender. It certainly looked like hand ball from where I was sitting in line with the offence, unfortunately, my remonstrations went unheeded! And just a few minutes later Victor Moses was accused of blocking off Schlupp at the other end, but no penalty according to referee Andre Marriner, his decision probably influenced by the one he didn't give us at the other end, in clear acknowledgement of getting that first one wrong. We've seen it so many times before, when wrong decisions cancel each other out!
Leicester had a bit more about them at the start of the second half and they did appear to stretch our defence at times. They were spurred on by their travelling fans who did actually prove they can make a bit of a noise without those pathetic clappers they seem to delight in at their place. But, despite their newly found determination, we had the measure of them.
We were playing Leicester at their own counter attacking game, a failed corner of theirs and the ball ended up with the industrious Pedro, lofted back towards Hazard who headed on to the lightning quick feet of Kante streaking up the pitch, accompanied by Moses. The pass was perfectly placed ahead of Moses and with only Schmeichel to beat; his shot was stopped by his outstretched arm. So close to a third goal.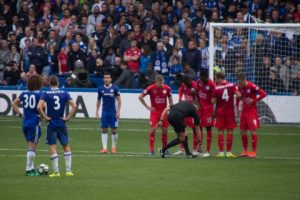 A really enjoyable game, despite Leicester seeming to come back into it, it was end to end stuff. They nearly pulled a lucky goal back as well, when David Luiz stretched out a defensive leg to prevent the cross reaching the waiting Steptoe, but managed instead to push the ball against the post. That could have been embarrassing, but our man just picked himself up and carried on like nothing had happened, after all, he has been there before! But straight up the other end as we pushed for a goal ourselves.
With just over 20 minutes left to play our first change took place, Chalobah on for Pedro, who looked a tad unhappy with that decision. I can't blame him, he doesn't get too many starts and he was playing as well as anyone. Good to hear the appreciation for him though, he's not everyone's cup of tea, although I have always liked him.
We continued to look comfortable, snuffing out Leicester's pretensions of a comeback. A third goal at this stage would seal the victory, and how sweet would it have been if Kante had managed to take the chance of his shot on goal, the ball rebounding off Schmeichel following his block to Hazard. There were red shirts being thrown all over the place to prevent that third goal going in.
As the minutes ticked by, the victory was more assured, our boys continued to play with confidence and were still looking for that third goal, which was great to see because they could so easily have shut up shop with the two goal advantage. The play was so open, they all wanted a go, Kante had already been denied, and Matic also gave it a go, wriggling his way past defenders and into the box before letting off a tricky short range shot that Schmeichel had to turn behind for a corner.
It was brilliant to see our team playing to the level we all know they can, Hazard seemingly back to his unplayable best, turning this way and that and running rings round opposition players. And further indication was the number of times he was brought down as defenders just couldn't deal with him.
But that seemingly elusive third goal was finally in the bag with 10 minutes left to play. And what a piece of magic it was. Kante with the space to find Moses in his right wing position, bringing the ball in towards goal and a cheeky one-two with the talented Chalobah spinning and back-heeling the return ball for Moses to coolly slot the ball over the grounded keeper and into the back of the net. With a back flip and a kiss of the badge in front of the Matthew Harding faithful, the whole team gathered to congratulate our resurgent winger, and with the crowd singing his name it was a special moment. Surely even those who aren't his greatest fans (yes, there are one or two!) couldn't deny him that deserved goal after having such a good start to the season.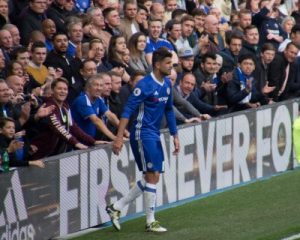 Our final substitutions were made, Loftus-Cheek and Aina on for goal scorers Hazard and Moses respectively, to rousing applause for all four, our talented youth players getting some valuable playing minutes at the top level.
Leicester never looked like scoring during the rest of the game, they had all but given up, and many home fans decided to leave as it was a clear case of job done. Shame really, the team deserved all the applause they could get at the end of the match.
So many positives from that game; the win, the goals and the clean sheet. But also the fact that every member of the team played their part in it, and played as a team, performing so well with the new 3-4-3 formation that is not only allowing us to use the wide spaces, but also shoring up the centre of defence. But let's not get too carried away. Yes, we have won our last two games, and won them well with clean sheets. But these have been against teams that are themselves struggling in the league. We've previously lost to 'bigger' teams, so the real test will come when we face a tougher challenge, like, as luck would have it, Man Utd next weekend.
So, roll on next Sunday, let's put those positives to the test with the visit of Man Utd and the return of our former special one. Up the Chels!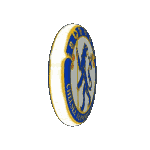 Posted by Chelsea Debs
Debs can be found on Twitter as @cfcunofficial and at cfcunofficial.com
You can read all Chelsea Debs 'Match Reports' here
DISCLAIMER: All articles written for the Chelsea Supporters Group 2005 (CSG) are those of the author and do not represent the views of the CSG. The views and opinions expressed are solely that of the author credited in the article. The CSG do not take any responsibility for the content of its contributors.
Related Images: