Chelsea v Everton – Match Summary
Chelsea 5 Everton 0 – Saturday 5 November 2016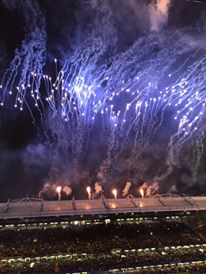 On bonfire night we might have expected a few fireworks following previous encounters against Everton at the Bridge. Who can forget that late equaliser when JT and half the team launched themselves into the Matthew Harding end. And on top of our recent impressive clean sheet performances, could we do it again against a tough defensive team like Everton, playing against ex-Blue Lukaku, a player who seems to divide opinion amongst Chelsea fans and who managed to see us out of last season's FA Cup?
So, for this tea time/night time game we fielded an unchanged lineup, perhaps Conte has found his favoured starting eleven. Courtois in goal with his three-man centre backs of Azpilicueta, Luiz and captain Cahill. Matic and Kante protecting the defence, with Moses and Alonso in their fluid wing back positions. Causing mayhem were Pedro, Hazard and our big man up front, Diego Costa. On the bench were Begovic, JT, Ivanovic, Aina, Chalobah, Oscar and Batshuayi.
With a few fireworks to greet the teams, led out by two Chelsea Pensioners looking resplendent in their familiar bright red coats, we took time out for a perfectly observed minute's silence to reflect and remember those who have made the ultimate sacrifice in order to protect our freedoms.
Kick off, and we seemed to spend the first few minutes of the game warming up, popping the ball around, testing out the spaces and getting the feel for a few cross pitch passes. But it looked a bit ominous for Costa a few minutes in when he went down clutching his ankle following a challenge on the edge of the box. We just played on, maybe because it was assumed he would get straight back up. He didn't, but our man soon limped back into play, the angelic Mr Costa not letting the likes of Seamus Coleman intimidate him.
It was looking very ominous for Everton as well, already resorting to hoofing the ball away from their box when they did eventually get hold of it. They were also resorting to bundling our guys off the ball as a means of halting our progress. We were all over them and they struggled to keep us under control. We were toying with them, just biding our time….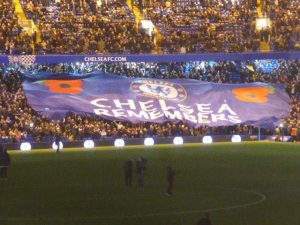 The inevitable finally came just short of 20 minutes played. Matic stealing possession with a quick pass to Costa as Hazard streaked up the pitch alongside. With a quick pass Hazard did his customary skip into the box, past a couple of defenders, before letting off a crisp low shot diagonally across the front of the goal, through keeper Stekelenburg's hands and into the far corner of the net. The keeper should have done better, but it was a sweet strike.
We were still celebrating and marvelling at that brilliant Hazard opener when, like London buses, another one came along, the three amigos Hazard, Costa and Pedro combining to bring the ball up the pitch and into the box with such speed, the Everton defenders may as well have been playing a game of chase me! As the ball came across the box it was anyone's goal, but with Alonso following up at the rear, it was left to him to slot the ball through the hapless keeper's legs to send us two up with still less that 20 minutes on the clock. We had exploded, like the fireworks at the start of the evening, the blue touch paper had been well and truly lit and we were on fire. Carefree!
Time for a short breather; we slowed the pace down and allowed our shell-shocked visitors a few moments with the ball, lulling them into a false sense of security as nothing was getting near our goal. We were like coiled springs just waiting for those counter attacking opportunities and the right time to burst forward.
Half hour gone and scintillating football was on display, short, triangular passing; our yellow shirted visitors could do nothing but stand in awe as we flicked the ball around in an elaborate game of piggy in the middle and when we got bored with that game we switched it to target practice, a lofted ball from Alonso to Moses, his volleyed strike at goal so close, but clattered the woodwork.
It didn't stop there; we still had time to sneak another goal before half time. A corner lofted in to the edge of the 6 yard box, nodded on by Matic to Costa, who was inexplicably allowed to loiter in space and when the ball dropped to his feet he simply knocked it into the back of the net. Stekelenburg was having a nightmare, he just couldn't respond because he didn't know where our next attack was coming from, and neither did his defenders who were left helpless to respond.
Into stoppage time at the end of the half, but rather than winding down ready for a half time Bovril, our boys nearly had the game out of sight. Once again, just popping the ball around when Pedro, on the touch line, back heeled the ball to himself to change direction and sprint towards goal, a forward pass to Costa who burst through the yellow defenders racing towards goal and as the keeper came out Costa managed to send the ball into the side netting. It could have been over and out for Everton at half time, but the score remained at 3-0.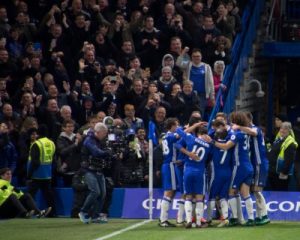 An unchanged team for the second half, I don't suppose Conte needed to say too much during the break, probably wanting to save his well worked vocal chords for pitch side. A relatively sedentary start to the half, slowly winding up the pace while snuffing out any pretensions to anything amounting to decent possession the Everton boys dared to have.
We were being treated to a master class in possession football, stroking the ball around the park, our movement both on and off the ball an absolute delight to watch, just patiently cranking it up until we were ready to pull the trigger. And that shot was fired 10 minutes into the half when the most sublime move you will ever witness on a football pitch saw some assured build up passing before Hazard played the most slick one-two with Pedro, who back heeled the return ball as Hazard accelerated towards the edge of the box and, surrounded by yellow shirts, he picked his spot, swivelled his hips and blasted the ball just inside the keeper's near post. A list of superlatives couldn't do justice to that move, so I'll just stick with mesmerising!
The home supporters were in awe of our team's performance; everyone was playing their part, knowing their job, and executing it to perfection. But also Conte, our manager who has worked and moulded the team into the newly introduced 3-4-3 system ever since that poor first half display at Arsenal. The fans rose to their feet in a heartfelt show of appreciation for the boss with a resounding chorus of "Antonio" reverberating around the stands. We had plenty to sing about, and we did, even the lower West Stand was getting involved.
With just over an hour played and freely moving the ball around, Luiz spotted Costa, lobbed a high ball forward while yellow shirts descended on him, but our man just turned and burst through them, accelerating away while they chased after him. It was comical playground stuff; Costa was attracting yellow shirts like moths to a flame and once five were on him he nonchalantly side footed the ball to Hazard who blasted a shot on goal. All Stekelenburg could do was palm it away, but only as far as Pedro, who was by now in acres of space in front of the goal, to gratefully tap the ball into the back of the net.
It was really hard to tell how Everton's performance was shaping up, we just didn't give them a chance to play. When they did have the ball, it was because we let them, and on our terms. With another 25 minutes left to play who knows what the score could have been. Unsurprisingly, many Everton supporters didn't hang around and find out.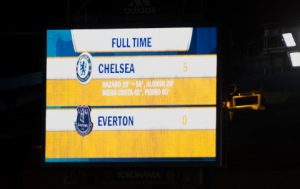 On 70 minutes Conte made our first substitution, Oscar on for Pedro, who left the pitch to a standing ovation. And it was Oscar who nearly put Costa in for another goal, again our big man bursting free of his minders like they weren't even there, only for his eventual shot on goal to be blocked by the defender as the ball got stuck under his feet. No doubt a relief for Everton, at a point in the game when most teams would be concentrating on shutting up shop we were still in the hunt for more goals.
Our second change saw Batshuayi come on to replace his compatriot Hazard, and once again the Stamford Bridge faithful rose to their feet in appreciation of our number 10 who has seen a resurgence in his fortunes, now back to his very best.
We were still knocking on the door for another goal, Luiz having his shot tipped over the crossbar. Everyone wanted to get in on the act as Everton could barely get out of their box let alone get hold of the ball.
Our third and final change saw the captains swapped out, as Cahill made way for JT, a round of rapturous applause for both players.
Just five plus minutes left to play and we were still on the offensive, while mindful of protecting that clean sheet. So refreshing to see; Conte still animated, urging his players up the pitch to make the most out of every given opportunity.
In the dying minutes even JT was on the offensive down the wing as sounds of "Antonio" and "We're top of the League" echoed round the ground, as the result saw us hit the top of the pile, overnight at least.
So 5-0 it finished, a comprehensive victory over a team who just couldn't handle us, a nigh on perfect performance as we dominated every aspect of the game. We looked assured and confident in every position, as each and every member of the team carried out their roles to the peak of their considerable abilities. Breathless stuff!
Into the international break now, fingers crossed our boys come back in good shape and we continue back in the League where we left off.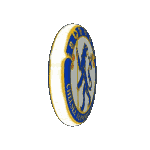 Posted by Chelsea Debs
Debs can be found on Twitter as @cfcunofficial and at cfcunofficial.com
You can read all Chelsea Debs 'Match Reports' here
DISCLAIMER: All articles written for the Chelsea Supporters Group 2005 (CSG) are those of the author and do not represent the views of the CSG. The views and opinions expressed are solely that of the author credited in the article. The CSG do not take any responsibility for the content of its contributors.