Chelsea v AFC Bournemouth – Match Summary
Chelsea 3 Bournemouth 0 – Monday 26 December 2016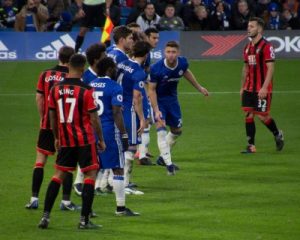 On a Boxing Day with limited travel options many, including me, set off for Stamford Bridge by car and enjoyed a scenic walk along our beautiful river Thames more than the usual short hop from Fulham Broadway station. And fair play to the Bournemouth fans who made the long trip because, as they reminded us during the game, they support they local team. Congratulations to them!
In the run up to the game we were eager to find out who would replace Costa and Kante while they both 'enjoyed' a one match suspension, hopefully they were partaking in some Christmas cheer like the rest of us mere mortals! We soon learned that as well as Fabregas replacing Kante, it was Pedro who benefited from Costa's absence instead of the expected and like for like replacement of Batshuayi. With many raised eyebrows and a sense of feeling a bit sorry for the Batman, the team lined up thus:
Courtois in goal with his ever present back three of Azpilicueta, Luiz and Cahill. With Fabregas and Matic in the middle of our pitch, were Alonso and Moses in their tailor made flying wing back positions, supporting the fluid front three of Pedro, Hazard and Willian. On the bench were Begovic, Ivanovic, Zouma, Aina, Loftus-Cheek, Chalobah and Batshuayi. Thankfully Chelsea loanee and on form Nathan Ake was ineligible to play for Bournemouth against us.
It's fair to say that the first few minutes of the game were pretty scrappy, not much on display to give the fans something to sing about, although we didn't look in any danger of conceding either. Stalemate. But as is often the case, we gradually built up a head of steam and started to put some decent quick passing together, with the odd off target shot on goal to show for it.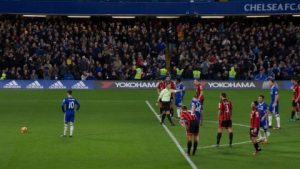 But ominously, it was a wide shot from Pedro following a swift breakaway move that would signal a shift of gear, and a few minutes later we had taken the lead when our fleet footed Spaniard effortlessly scooped the ball into the back of the net from the edge of the box, keeper Boruc a spectator as the ball looped past him.
That was the goal we needed to liven up proceedings and apart from some occasional quality play from Arsenal reject Wilshere, Bournemouth didn't seem to offer too much of a threat, despite actually setting up to play football rather than deploying the spoiling tactics of some teams. Fair play to them for that.
But we just didn't look in any danger; every area of the pitch was being covered by a blue shirt who knew exactly what their job was and executed it well. And what can you say about Eden Hazard? His movement on and off the ball was phenomenal, whenever he received a pass you knew something would happen, he'd either pirouette round his many markers and sprint goalwards, or they'd have no option but to foul him. Either way, he would always gain an advantage, and one such free kick almost saw us double our lead when Fabregas's floated shot from just outside the box didn't quite have the dip to find the top corner of the goal, but the keeper was beaten if it had.
Just before half time and a rare Bournemouth attack led to a bizarre decision by Mike Jones the referee, who played advantage for a dubious challenge on Wheelchair before the ball fell to a Bournemouth player with enough space and time for a clear chance on goal, only for him to blast the shot high into the back of the Matthew Harding stand. But no, Mr Jones decided he was feeling a bit sorry for the visitors and gave them a second bite of the cherry (pun intended) by awarding a free kick for the original infringement.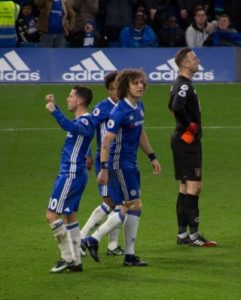 To a chorus of boos the free kick was eventually blasted into the wall and following a brief panicky spell the half time whistle was blown, to even more boos. HT 1-0.
Second half and unsurprisingly no changes as we continued as we left off from the first half, our front three dancing their way through the Bournemouth defence. Barely three minutes had passed before the inevitable foul on Hazard, but this time in the box so a penalty was rightly awarded, which our weaving wizard duly converted as he simply rolled the ball into the right hand corner while the keeper had already committed to throwing himself in the opposite direction. Two up, and no more than we deserved.
It was all one way traffic, wave after wave of attacking and counter attacking moves, long balls into space, long balls switching play from left to right; we had it all covered, apart from that final ball into the back of the net. But not from want of chances, Willian and Moses coming close. Even when we didn't have the ball we were fighting to regain possession, and any loose ball we were quickly on to. Our boys were enjoying themselves out there, tricks, skills and mesmerising football on display.
Into the last half hour and the home crowd were getting into celebratory mood as we felt a third goal was coming, while at the same time our excellent defence were on a mission to keep another well earned clean sheet. It was exhibition stuff, moving the ball around with confidence while Bournemouth could only stand back and admire.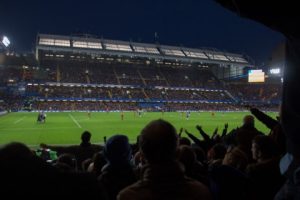 Approaching the final 10 minutes and yet another bizarre decision by the referee; this time to stop the game and allow Wheelchair to be treated for cramp, of all things! Maybe he's just not used to playing a whole game, but it wasn't a foul, and it wasn't a head injury so I'm not sure why the special attention. Hey ho!
Our first change finally came when Chalobah was brought on to replace the superb Willian and with just a couple of minutes left on the clock Moses was replaced by another of our talented academy youngsters, Aina. And as we entered 3 minutes of stoppage time, a ready and willing Batshuayi had to wait until Pedro had scored his second at the end of stoppage time before he could get on, the ball being kept in play and preventing the switch with Eden Hazard. He didn't even get a touch of the ball when he did finally get on just in time for the restart!
But score his second goal Pedro did, another blistering breakaway move had him streaking up the pitch, weaving this way and that, before he let rip at the edge of the box, the ball taking a deflection and flattening two defenders on the way into the back of the net. What a game Pedro had, just a shame he picked up a fifth yellow card and won't be available to be selected for our next game, at home to Stoke. But hey, we'll just have to revert back to Costa while Pedro has a New Year's Eve rest. Champagne anyone?!
You had to have some sympathy for the Bournemouth lads; it must have been a frustrating afternoon for them finding us in such unstoppable form, especially as they tried to make a game of it. But it's the Blues who go marching on to our club record breaking 12 wins in a row and still clear at the top of the league.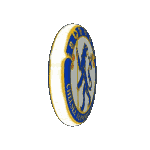 Posted by Chelsea Debs
Debs can be found on Twitter as @cfcunofficial and at cfcunofficial.com
You can read all Chelsea Debs 'Match Reports' here
DISCLAIMER: All articles written for the Chelsea Supporters Group 2005 (CSG) are those of the author and do not represent the views of the CSG. The views and opinions expressed are solely that of the author credited in the article. The CSG do not take any responsibility for the content of its contributors.
'Chelsea Supporters Group' can be found on Twitter and Facebook
Related Images: