Chelsea v Spurs – Match Summary
Monday 2 May 2016 – Chelsea 2 Spurs 2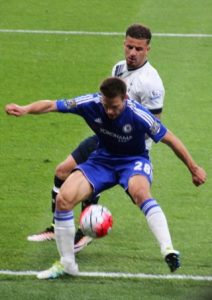 Here we were, a pleasant May Day bank holiday and the culmination of our miserable season had boiled down to this one fixture, a game against our fiercest London rivals, a fixture and a team that fires the passions of Chelsea fans more than any other, a team that hasn't won at the Bridge for 26 years. But they were also a team still in the race to win this season's Premier League title, a win or a draw for us ends Spurs pursuit of glory. Chelsea expects, let the game begin…..
To the teams, with Begovic in goal, our defence saw the welcome return of JT, alongside Cahill, Ivanovic and Azpilicueta. Mikel and Matic were paired up in front of the back four, with Willian, Fabregas and Pedro supporting Costa up top. On the bench were Amelia, Rahman, Loftus-Cheek, Kenedy, Oscar, Hazard and Traore.
The atmosphere at the Bridge was tense, as it always is against our north London rivals, and with early boos at Lloris's decision to turn the teams around, we kicked off. "The sh*t from Spurs, they bought his flight……" Come on you Blues!
A frenetic start, fans and game alike, as we took control of the opening minutes of the game. No standing on ceremony in this one, it was highly charged on and off the pitch and the writing was on the wall even before 10 minutes were up, with a succession of subtle and not so subtle fouls committed on both sides. The game developed into a pretty even contest, chances being created at both ends, not perhaps a game for the football purists though, both teams hassling their counterparts, giving little room for anything but short, and often snatched, passing.
As we approached the half hour our best effort on goal so far, referee Clattenburg allowing play to continue following another bullying dig at little Pedro by the brainless thug Kyle Walker, the ball found Fabregas in space in the box, his shot on goal just inches past Lloris's post. Up to the other end and Son was given a bit too much space but saw his shot on goal go wide as well. The game was starting to open up, more space being created, allowing shots on goal at both ends. Anyone's game at this point.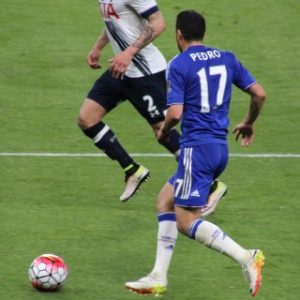 But it was Spurs who eventually broke the deadlock on 35 minutes, our defence caught napping while Kane received a through pass from Lamela, beat the offside trap, dribbled(!) past Begovic and he simply tapped the ball into the back of the net. Someone has to score first, and still plenty of time to even things up.
The feistiness continued, swinging legs and arms all over the shop, and there was even some football being played in there somewhere! But just before the break a wayward pass from Ivanovic allowed Spurs to pick up the ball and with everyone chasing back a quick ball from Eriksen found Son who slotted the ball past Begovic. Two goals down and everything to do, two lapses of concentration the only difference between the teams, but telling differences they were.
As we approached half time tempers and testiness were starting to get the better of the teams, Danny Rose exhibiting typical small man mentality throughout the half, having a not so sly barge into Willian near the dugouts, while our usually mild mannered Brazilian stood up to him. It all descended into a bit of a brawl, handbags really, coaching staff and players all getting involved. As the whistle blew for half time it was hard to see how we could come back, let alone how many players would finish the game.
During the half time break good to see Eden Hazard warming up and he was indeed introduced for the start of the second period, at the expense of Pedro, for a bit of much needed resilience. Hopefully the team had also received the benefit of a right old JT rollicking at half time, just one goal and anything could happen, the next one would be crucial, for both teams.
Needless to say, the away fans were in good voice, as far as they were concerned the game was over, we were "f*****g sh*t" and the Spuuuurs were marching in.
But our visitors could clearly sense that we had no intention of rolling over as needless tackle after needless tackle went in on our boys, yellow cards being produced like they were attached to Clattenburg's pocket by a piece of elastic. And poor old Danny Rose, the little kid running into Willian, rolling around the ground clutching his baby face while the medics came on to kiss him better. Bless.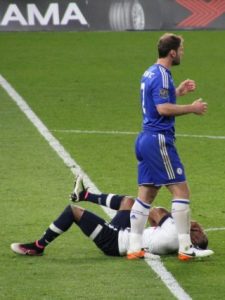 Still an even game, except it was us that needed to score. Hazard was definitely making an impact, linking up well with Fabregas, Willian and Costa, plenty of his trademark (last season at least) runs, twists and turns on display.
As we approached the hour, a few minutes of welcome respite from the high intensity with a period of unchallenged passing as we earned ourselves a corner. A good ball in from Willian, dropping on to the penalty spot, where Cahill had enough time and space to take the ball down with his right foot and quickly stab the ball into the back of the net with his left. What a goal, what a time to score it, and right in front of the away fans. Game on!
That goal seemed to calm things down a bit, at least as far as the shenanigans were concerned, no flying tackles, no sneaky kicks out as Spurs found themselves having to be mindful of the number of yellow cards they had racked up. They also needed to be mindful of the danger Eden Hazard in particular was posing.
With a quarter of an hour left to play we started to crank things up a bit, a really well worked move pushing up the pitch, Willian, Hazard and Fabregas all involved, the final touch eluding Costa as the ball passed agonisingly close across the face of the goal.
We were turning the screws; a question came from my West Stand neighbour Paul, "3-1 or equaliser?" "equaliser" I said, as the ball came hurtling back towards the Matthew Harding in this ding dong battle. But thankfully all easily dealt with.
Getting into do or die time of the game now, and our second substitution was made, Oscar on for Matic, Guus looking to reinforce our increasing threat up front. We were coming at them in waves and Oscar was enjoying getting stuck in.
But on 83 minutes came the tsunami of a wave, Harry Kane (he's one of their own) was bundled off the ball and dispossessed in our half, Mikel moving the ball up the pitch with Hazard. A short pass to Costa who used his strength to turn and hold off Alderweireld, before feeding it back to the little Belgian as he ran into the box. And with minimum backswing he used the inside of his boot to stroke a sweet shot into the far top corner of the net, Lloris unable to get anywhere near it. It was as good a goal as befitted the significance of the occasion and the equaliser, as Hazard, sliding to his knees, and his team mates raced towards the away fans to celebrate. Who put those pesky north Londoners there anyway? Oh, yes, Hugo Lloris did when he chose to change ends at kick off!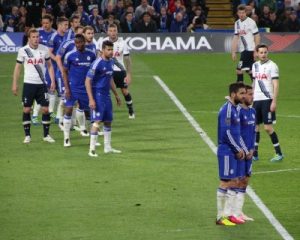 Mayhem in the home stands, to cries of "you're f*****g sh*t" in deserved response to the away fans earlier, followed by the mocking "2-nil, and you f****d it up" as their team went into meltdown and completely lost the plot, Dier especially lucky to have just a yellow card for successive lunges at Oscar and Hazard.
But all it did was play into our hands, wasted the time they needed, and even with 6 minutes of time added on they didn't have enough about them to change the outcome. And as the home crowd sang one of my favourite songs "…..over land and sea, and Leicester!" I wasn't enamoured with many home fans singing out for Leicester, it just seemed wrong somehow, even given the wider significance of the result.
The final whistle blew, a 2-2 draw, and resounding cheers around the ground and no doubt across the country except, of course, for a small corner of Stamford Bridge and a small ghetto in north London. 26 years eh? Or is that 27 now?
Congratulations to Leicester and Claudio Ranieri, who, let's face it, were managing to win the league without our help. At the same time, let's not get too carried away with our performance and result, as fantastic as it was, our season doesn't consist of one game, and we still have three more to play.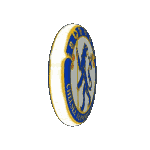 Posted by Chelsea Debs
Debs can be found on Twitter as @cfcunofficial and at cfcunofficial.com
You can read all Chelsea Debs 'Match Reports' here
DISCLAIMER: All articles written for the Chelsea Supporters Group 2005 (CSG) are those of the author and do not represent the views of the CSG. The views and opinions expressed are solely that of the author credited in the article. The CSG do not take any responsibility for the content of its contributors.