Another Routine Win (by Gary Watton)
ANOTHER ROUTINE WIN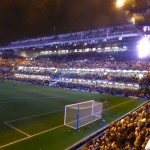 It became something of a near-embarrassing procession, after Tottensham's early pressure, as Chelsea once again produced a ritual slaughter of the mighty Spurs. Jokes have been in wide circulation amongst the Chelsea faithful for a couple of decades about this derby fixture, but suffice to say that Tottenham are one club that Chelsea would hate to see relegated. They are an annual source of lots of points. Bless 'em.
In Tottensham's flimsy defence, they had played on the previous Thursday and again on the Sunday, so theoretically they had more commitments for their more limited squad to cope with. I have some sympathy with this. After all, Chelsea now face the horrendous prospect of coping with another trip to the north east on Saturday lunchtime, a mere two and a half days after a London derby. Already this season, Chelsea had to do battle at Shamfield on Saturday lunchtime, having played European football on the Wednesday night [away from home].
It's easy to blame the twits who devise the awkward fixture times, but my scorn is reserved for the Chelsea secretary or Chief Executive who allow themselves to be pushed around and accept such ludicrous gaps between matches. There is nothing stopping the Chelsea administration folks insisting upon the live match being transferred to Saturday at 1730, or better still Sunday afternoon. Why do the peeps at Stamford Bridge always cave in to the whims of the fixture arrangers? Not only do they clearly care little for the welfare of the team nor the manager's opportunities to adequately prepare between matches, but presumably many Chelsea supporters will be unamused at having to rise on a cold, dark Saturday morning and travel to the frozen north at an unGodly hour.
Let's hope that the schedule doesn't impact upon the team's performance. I would ordinarily accept a draw on Tyneside, but now that Manchester Mercenaries have rediscovered their mojo, perhaps draws simply won't do. Besides, even the terrible trio of Arsenic, Liverpoo, and ManUre have all started to string some wins together.
Anyhow, it is great to see Thibaut and the troops accumulate a fourth consecutive clean sheet. That is a good omen. Can they emulate Petr Cech's great shutout sequence from 2004-5? It was also wonderful to see Costa's two stand-ins prove to be worthy deputies, as both Drogba and Remy scored. The latter can count himself unlucky to be merely a bench-warmer. How long will the talented Frenchman make do with cameo performances? Mind you, Drogba is in the twilight of his career, and DC is always liable to get himself injured or suspended, so maybe chances will be plentiful. Finally, Kurt 'Happy' Zouma earned a glowing reference from his manager who has predicted that Kurt has a big future at Chelsea. Let's hope so. He looks set to be yet another excellent goalscoring centre half.
As for Tottensham, they have the chance in exactly four weeks time to redeem themselves when the reverse fixture takes place at Three Points Lane peculiarly on New Years Day. Chelsea cannot expect the whites to be as impotent the next time. If four weeks is a long time in politics, then they are a mighty long time in soccer, so the norf Londoners may be a different beast next time around. However in the mean time, the west Londoners can crow at the club that previously broke our hearts in the FA Cup in 1967 and 1982 and in a Wembley cup final in 2008. Now we can continue to laugh at their misfortune.
Personally this COYS shit is laughable. COYS? Is it Constantly Overrated, You Spurs? Or could it be Continually Ordinary, You Spurs? Or maybe it's just plain old Chelsea Overcome You, Spurs. Answers on a postcard.
The author can be stalked at http://chelsea.thefootballnetwork.net
You can view all of the Football Network articles for the CSG here
DISCLAIMER: All articles written for the Chelsea Supporters Group 2005 (CSG) are those of the author and do not represent the views of the CSG. The views and opinions expressed are solely that of the author credited in the article. The CSG do not take any responsibility for the content of its contributors.
Related Images: