Tuesday 20 October 2015 – Dynamo Kiev 0 Chelsea 0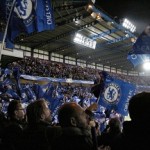 Our second away trip on our Champions League trail, and kind of pleased I chose the comfort of my sofa to watch the game after hearing about some of the hostile incidents both inside and outside of the ground. And it rained a lot!
A strong lineup, Begovic in goal with a centre back pairing of JT and Cahill. Azpilicueta returned to left back while Kurt Zouma was drafted in to an unfamiliar right back role. With Matic and Ramires supporting the back four, Fabregas sitting behind front man Costa, the returning Hazard with Willian our creative attacking options. On the bench Blackman, Baba Rahman, Traore, Kenedy, Mikel, Oscar and Falcao.
A positive first few minutes of the game, Azpilicueta getting into a few tangles with Kiev danger man Yarmolenko as he kept a close eye on him. We were looking a lot more positive than many of our recent games, with an early well worked move ending in a super shot on goal from Hazard, requiring a fingertip save from their keeper to push the ball off the post.
With just over a quarter of an hour played, a probing run down the left from Fabregas was halted when he was tripped by not one but two Kiev players inside the box. No penalty according to the referee. A few minutes later another great chance when Willian launched one of his trademark free kicks goalwards only for the ball to elude the outstretched leg of Costa. And when Matic was allowed to run with the ball unimpeded to see his shot on goal go wide, it seemed only a matter of time before we would get ourselves on the score sheet.
We didn't have it all our own way, but our strong defence ensured that any Kiev attacks of note were snuffed out pretty routinely.
Start of the second half and straight out of the blocks with a free kick just outside the penalty box. Step up man of the moment Willian, who else? And didn't that ball rattle the crossbar? Getting closer to that goal.
End to end stuff during the early part of the half, our boys looking very positive at both ends of the pitch. But with half an hour left to play a breakaway move from Kiev, found the ever present Yarmolenko tearing towards goal, but the nasty little Gonzalez had his near post shot saved by Begovic. And Gonzalez had a second go a few moments later, but our athletic keeper was able to direct the ball out of harm's way. A few dangerous minutes from the Ukrainian team.
With 15 minutes left to play, Fabregas was replaced by Oscar. We were controlling the park by this time and Kiev really didn't look likely to score, and we seemed content to keep it that way. Into the last few minutes, Gonzalez and Yarmolenko linking up again in some worrying moments in front of our goal, but it was honours even when the final whistle finally came.
While we could have won the game, I will take the point, the much improved performance being the real winner on the night, and never easy to go to a war zone and come away with a result. Also good to see our boys smiling again.
No doubt much of the talk will be about Jose's post match comments regarding the referee's performance, two incidents of note under close scrutiny, the penalty shout with Fabregas and the spiteful foul on Willian by Gonzalez in the first half. Both went unpunished, unlike Jose who will probably have to deal with the wrath of UEFA this time.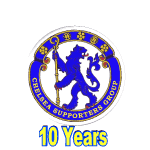 Posted by Chelsea Debs
Debs can be found on Twitter as @cfcunofficial and at cfcunofficial.com
You can read all Chelsea Debs 'Match Reports' here
DISCLAIMER: All articles written for the Chelsea Supporters Group 2005 (CSG) are those of the author and do not represent the views of the CSG. The views and opinions expressed are solely that of the author credited in the article. The CSG do not take any responsibility for the content of its contributors.