Monday 28 December 2015 – Manchester United 0 Chelsea 0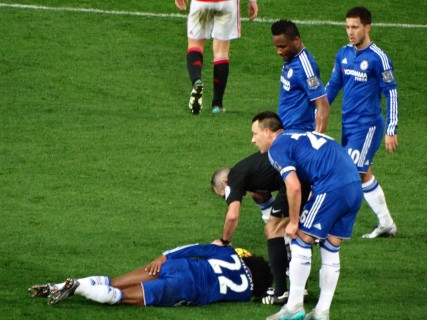 Another Christmas fixture, and a stop start journey on the motorways heading north that finally got the disco car to Manchester just in time for kick off despite the early set off.
With no recognised strikers making the trip it was once again down to Eden Hazard to provide a strike threat up front. Lining up in goal Courtois, with Ivanovic, JT, Zouma and Azpilicueta across the back. In midfield Mikel and Matic, with Willian, Oscar and Pedro, plus Hazard. On the bench Begovic, Djilobodji, Rahman, Ramires, Loftus-Cheek, Traore and Kenedy.
Historically an epic encounter but with both teams not in the best of form and clearly wanting to change their respective fortunes around it was the home team and Chelsea old boy Juan Mata who nearly made an early breakthrough, clattering the crossbar with a shot on goal. Straight up the other end and a Willian corner finding the head of JT, and perfectly guided towards the roof of the net, only a top save from De Gea preventing a certain goal. What a flying start!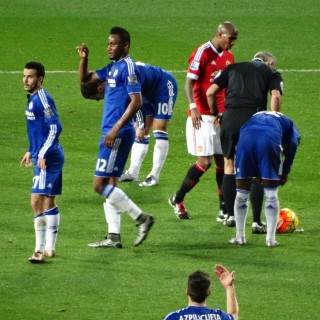 However, it was a bit of an anti climax after that, our boys content to sit back en masse, inviting United on to us. And when we did intercept and pick up possession, the outlet wasn't there, resorting to long balls with but no target to aim at. But while the Reds looked the more likely to score, we managed to snuff out the threats, even if it was a bit untidy.
Disconcerting though, some poor officiating meant Hazard in particular was allowed to be targeted, cynically fouled at will. On the upside, hopefully an indication that our wonder kid is finding his form and once again causing problems for defenders. But while United were working their way up the park and through our players, we were relying on the quick counter attack but often finding no one to keep up with the play. A frustrating first half, 0-0.
The second half started with a demonstration of some silky skills from Ivanovic, only for him to be tripped and a free kick awarded in the corner where us noisy away fans were located. Sadly it came to nothing but it did lead to a passage of play that saw Hazard wriggle his way towards goal, his pass allowing Pedro then Azpilicueta consecutive shots on goal, only to be denied by De Gea.
A bright start to the half, upping the pace and starting to look more purposeful. But the save of the game came 10 minutes after the restart when Herrera's run in on Martial's ball across the 6 yard box found Courtois running back across the goal managing to see it out at point blank range. Everyone in red thought he had scored as the cheers went up, while we let out a sigh of relief!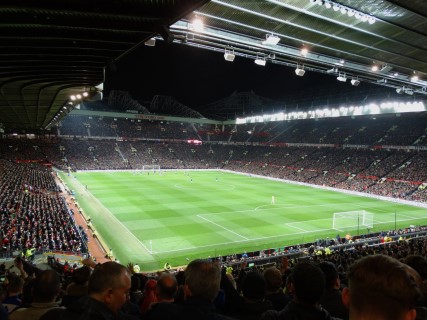 But just after the hour came the chance that could have changed the game, a breakaway move saw the speedy Pedro turn and race towards goal, passing to Matic who was streaking down the middle of the park. And with only the keeper to beat he fired on goal as he broke into the penalty box only for his shot to fly miles over the crossbar. What a chance squandered, but perhaps if a striker was on hand instead? Who knows!
Straight up the other end again, and a penalty appeal from the home team as Mata was tackled by Azpilicueta in the penalty box, but legitimately according to the ref.
With 20 minutes left to play we made our first substitution, Ramires on for Willian. Into the last 15 minutes our boys were looking weary, giving the ball away far too often. We continued to hold firm at the back though, JT marshalling the troops to block any real threat. But a real threat almost got through towards the close of the game, when fat bar steward Rooney wasn't able to convert a handy cross, with the ball missing the target by miles. As we went into stoppage time the chunky one (I'm too polite to swear!) could have been sent off for a nasty challenge on Oscar, his studs recklessly straight into his calf.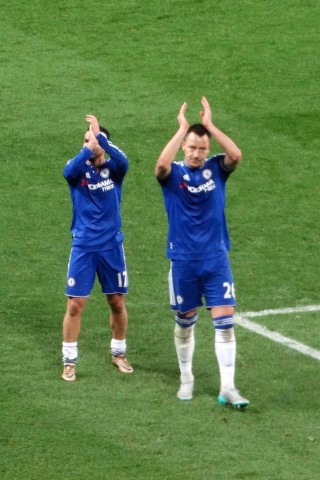 As we wound down the clock it was clear that Guus was content with the point, a last time wasting substitution with Loftus-Cheek on for Oscar. The final whistle, and a frustrating game but on balance probably a fair result, any trip to Old Trafford wasn't going to be easy and without a striker to speak of a point under those circumstances could be seen as welcome. Overall I felt the teams cancelled each other out – not a glowing endorsement of our performance. Although the work rate seemed reasonable at times, it resembled lower league stuff, too much ball given away, long balls into gaping spaces, a real lack of quality. That's not to say it wasn't enjoyable at times, there was still plenty to shout about, urging our boys on when they did get the ball and move forward.
The away fans were on top form though, singing throughout the game and showing support for the team, thankfully this time appreciated by the players as the boys walked toward and applauded the away end after the game.
So back on the road, and once we managed to get clear of the dreaded Manchester ring road we were on our way, disco car playlist tunes in full flow.
So that's 2015 wrapped up, a definite year of two halves, let's hope this season has a better half in 2016.
Happy New Year!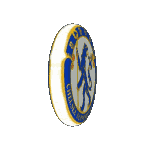 Posted by Chelsea Debs
Debs can be found on Twitter as @cfcunofficial and at cfcunofficial.com
You can read all Chelsea Debs 'Match Reports' here
DISCLAIMER: All articles written for the Chelsea Supporters Group 2005 (CSG) are those of the author and do not represent the views of the CSG. The views and opinions expressed are solely that of the author credited in the article. The CSG do not take any responsibility for the content of its contributors.