His Name Is Percy Dalton (Season 1983/84)
"With the closed season now upon us, the CSG has decided to re-post some excellent articles (and pictures) that our friend 'Corby' put together many seasons back. We hope you enjoy them once again"
This is 'Part Nine'
Season 1983/84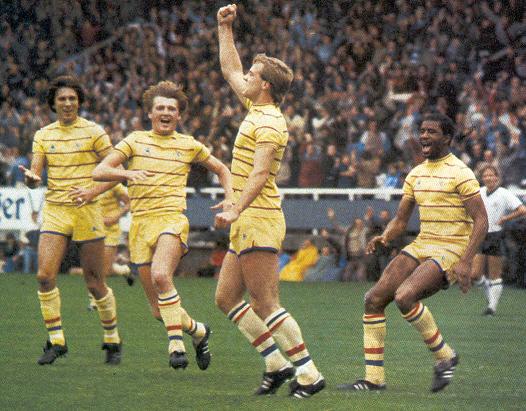 When I was around 9, maybe 10, I'd look at my Dad's football coupon each week. Division One would have teams like Burnley, Huddersfield, Blackpool (& now Leeds!) etc in it. As the years rolled by I watched those names fall through the Divisions, never to return. After finishing 18th in Division 2 in 82/83, I feared the same fate for Chelsea. We were now in free fall and the only hope seemed to lie with Bates and Neal's comments in the last home programme of 82/83, where they said new faces would be coming in.
Who were they to be? Hopefully they would be an ounce better than Alan Mayes who had left us. Good riddance to 'mincer' as I called him. 24 years on I'd still stick pins in his eyes! As the summer wore on, Chelsea signed a few players. They never really made back page news, you'd have to look through the "latest transfers" column to see who we'd signed…. Joe McLaughlin (who?) from Morton (where?), Nigel Spackman (who?) from Bournemouth, Patricia Nevin (who?) from Clyde (where?), Eddie Niedzwiecki (who?) from Wrexham and Kerry Dixon (someone I'd actually heard of!!!) from Reading.
Two other signings had names I instantly recognised, Hollins J, and Hudson A. These two had left us during the troubled times of the mid 70's. Hollins had actually played in my first ever Chelsea game at Leicester in 1975 but left when we got relegated that summer. Hudson had jumped ship a season earlier, in 73/74, and swam up to Stoke. I'd never seen him play, but to me he was hero, one of the 1971 Athens cup winners. As it turned out I never saw him play, 'injury to his leg' and 'injury to his pride' kept him out the team. I think Bates had something to do with the latter injury…
Out came the fixtures and Derby at home was the first game. They were one of the favourites to get promoted, not exactly what we needed when we had new players to settle in. I always loved the first game of the season. There was always a buzz about it. Each season you'd think "this is going to be OUR season"… knowing quite well you were deceiving yourself. On the train down there would be the same old loyal faces, a mob of us from Corby, Ells, Des & Kev from Kettering, Ginger from Mkt Harboro, Keith from Leicester, Ricky from Loughborough (who we nicknamed 'Cleo' because of his hair cut!) Chris from Rotherham. There would also now be quite a crowd get on at Wellingboro. Paul Sweeting, Steve 'Medders' Medlin, Andy Lazarus, various WAGS and a host of faces some of who we never knew their real names, we just gave them nicknames such as 'fine pair' 'Wedgie' & 'the Tattooed man' (now a tout on FB) amongst others.
It was a great feeling walking along the Fulham Rd up to Stamford Bridge in the sunshine after a session in the Kings Head & Swan. Where I stood in the Shed -up by the West- was the perfect place to be on a sunny day, for the Sun would be behind you! I'd often look at the East Stand and at times it would seem the whole stand were giving Nazi salutes, whereas in reality they were just shielding their eyes from the Sun with their hands! Strange thing though that even on cloudy days the hordes in Gate 13 of the East lower still had their arms raised…
5 of the new boys started that day, Spackers, Eddie, Joe, Holly & Dixon. What the hell was John Neal playing at? How the fark can you bring in 5 new faces straight away? They must be given time to blend in! They were my thoughts anyway….. Maybe I wasn't cut out to be a football Manager… we strolled to a fantastic 5-0 win in the glorious sunshine. No one else had won 5-0, so after one game, we were top of Division 2!! we're the boys in blue, Division 2, and we wont be here too long..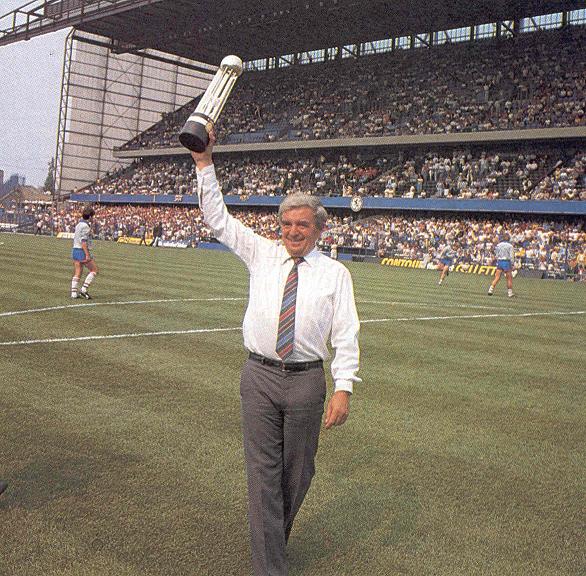 Songs on the terraces come and go. Most of the songs of this era have long been forgotten. My personal favourite had lyrics that even Paul Weller couldn't improve. It was simply 'Chelsea' sung over and over again. Sometimes it would go on a good 20mins+, mainly at away games. After about 10 mins of Chelsea Chelsea Chelsea (x 3,000!) most home fans would applause our efforts.
When an opposition team scored at Stamford Bridge the Shed would immediately break out with "you're gonna get your farking heads kicked in" as 1,000's of arms pointed to the away fans up in the North Stand. Violence was in many songs, "You're going home in a farking Ambulance" & "hit 'im on the 'ead wiv a baseball bat, Oh yea, Oh yea" were other classics.
There was a song that was sung by us up by the West whenever the peanut man came round. This guy would walk around the Shed with this massive paper sack full of small bags of Percy Daltons 'Monkey' nuts. He would shout over and over "Peanutsss, roasted peanutsss" They were only probably 20p a bag or so, but I bet he made a mint. The song went something like – (to the tune of 'his name is Tommy Baldwin')
His name is Percy Dalton
He sells peanuts at the Bridge
The finest shelled peanuts that the shops will ever sell,
Weeeeeeeeeeeeeeeeee
crack 'em open
Eat them
Or we throw them down the front,
At a copper standing there,
We try and hit the **nt
Na na na na na na na na na na
The following week we had Brighton away. To the life of me I can't recall if we went by car or train. I know I went, I was one of 1,000's of Chelsea walking along the sea front like a scene from Quadrophenia. There had been 'trouble' on the night before, and that atmosphere just seemed to carry on throughout the day. Plod at the turnstiles were very aggressive, and at one point they charged a couple of horses into us and tried to justify it by saying the ground was full. We then decided to go down the home end, and get in there. Unknown to what seemed like everyone else, there were a couple of turnstiles just around the corner from where all the main Chelsea were trying to get in. The queue was very small, so we went in, thinking it was the Brighton end. When we got inside we realised we were standing along the side, and it was full of Chelsea anyway.
A fine 2-1 win, and at the end of the game 100's poured onto the pitch to celebrate. Those celebrations quickly turned ugly, as Plod indiscriminately used their truncheons on the invading hordes. It didn't matter if you were 6 or 60, male or female, Plod hit everyone they could. To say a few Plod lost it that day is an understatement. The Chelsea end crossbar was broken and the scenes got more and more violent. On the pitch a few Plod got punched and kicked to the ground and as I stared on, a lad behind me shouted "serves you right for what you did last night you ***ts" I turned round and noticed the lad had a horrible bruise on the side of his face. He had probably been hit by Plod after being caught up in the trouble the night before.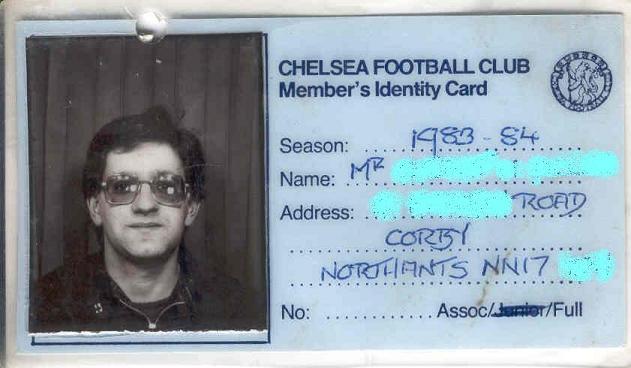 The summer sunshine seemed to go on forever that season. We'd made a brilliant start, and only Sheff Wed (favourites to win the Division) had beat us in the first 13 games, a run that included Dixon scoring all 4 in a Milk (League) Cup win at Gillingham. Dixon had carried on his scoring form from his Reading days, hopefully he would carry it on all season and get us out of Division Two after 5 years.
We played Leicester in the 2nd round of the League (Milk) Cup, and had strolled to a first leg 2-0 win at Filbert St. To my horror Leicester came down for the second leg and won 2-0. This meant the game was to be decided on penalties. While the penalty takers were being decided, I noticed quite a few people move so they were directly behind the Shed goal. To this day I still don't understand why they did this. Was it for a better view, or was to put the Leicester penalty taker off? I stayed and stood in my normal spot up by the West. This was the first time I'd ever seen a penalty shoot out and I was desperate for Chelsea to win. Some of my closest mates support Leicester and two of them had decided to come in the Shed with me that night. We won 4-3, much to my delight – whilst my Leicester mates just stood there totally, totally gutted. It was a long way home for them that October night… especially when I kept going on and on and on and on about!! Years later I realised how they must have felt that night, for we all stood together and watched England lose a Semi Final penalty shoot out.
With my mates off following their clubs around Europe, the only way I could see football abroad was with England. In November we caught an overnight ferry to Ostend en route to Luxembourg for England's Euro 84 qualifier. Within minutes of getting on the boat, you could sense the tension between various groups of England fans, north/south, Chelsea/West Ham etc etc – minor scuffles throughout the journey kept me awake. The train journey to Luxembourg was as eventful as the ferry crossing, at one station a mob from Oldham & Stockport had had enough, and got off.
England's previous visit to Luxembourg was a 2-0 win in a WCQ in 1977. That visit saw serious 'trouble', and the local Plod/Army were at the train station when we pulled in. Why they were there I don't know, everyone just walked through them and out into the City. Hotels didn't really want to know anyone English, and we struggled to find a room. I tried speaking German at a few places, but to no avail. Maybe if I'd took my half England/half Chelsea ski hat off I would've been more successful!!
We eventually gave up and found a bar. After a couple of drinks we noticed it was actually the bar of a Hotel. We somehow managed to persuade a barman to book us a twin room, and hey presto, 5 of us had a room for the night. We drew lots to see who had the beds, and needless to say I ended up taking some curtains down to use as a blanket…
The next morning we had to go up to the England Hotel to collect our tickets from the FA. There had been a delay in sending some of them out, and we were told to ask for a 'Mr Bird' at reception. He duly turned up, gave us our tickets and told us to enjoy the game. Just as we were about to leave, the England players returned from a training session. We watched as they all headed to the bar….so we joined them! They were only drinking Orange or other soft drinks, while we knocked back the bier.
I got them to autograph a price list that was on the bar as we were chatting to them. Terry Butcher & Bryan Robson were very chatty, you could sense they loved the England set up. Others, like Woodcock and Duxbury, preferred to say very little.
Then in came the boss. Not Bobby Robson, but HRH Bert Millichip, self styled 'god' of the FA. Someone had obviously told him there were some 'peasants' in the Players bar. He headed straight to Steve, and said "young man, you're not meant to be in here, and I find your sweatshirt very offensive" Steve was wearing the best item of clothing money could buy. A grey top with 'CHELSEA London' in the style of the 'Lonsdale' sweatshirts that was very popular back then. Steve, being as diplomatic as ever, told him "fark off you old dinosaur…" 10 minutes later after more verbals – at one point I called Bob Wilson (there working for TV) a judas karnt for being born in England but played for Scotland – we were outside the Hotel looking for a taxi back into the City…
On t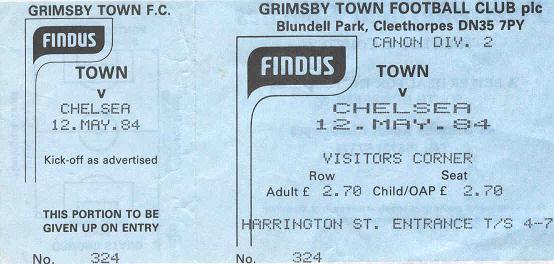 he way up to the game the odd window was smashed, at the game itself (4-0) loads left at half time to confront the Plod/Army or whatever they were. It's fair to say that most England there that night were hell bent on causing trouble. Afterwards as we made our way back to the train station, car after car was upturned, a showroom with top of the range BMW's or whatever they were was totally trashed, (removed for legal reasons), a lone Plod motorcyclist was set upon, he ended up in a ditch…. along with his bike. It was a full scale riot, and there was some looting of shops here and there.
Down at the train station the tension that was on the ferry coming over finally erupted. I don't know how it started, but a well known Chelsea face and his mob were certainly putting it about by 'dealing' with various groups of northern England fans. What the Plod thought of it all I don't know, at one point mobs from Chelsea/West Ham/Stockport/Man Utd all seemed to be fighting each other. Crazy scenes, if ever there were any!
After 4 years of constant piss taking from my Pub mates, I was at last beginning to hold my head high again. It was nearly Christmas, and we were still up with the leaders at the top of Division Two. Before I knew it, I was sitting on the train shell shocked. We'd been 2-0 up at home to Grimsby and looking like get a hat full, then ended up losing 3-2. With Christmas days away, were we going to start to fall away and end up spending a sixth season in Division 2?
Traditionally Chelsea have had many a poor festive season – 2006-07 for example!!! We needed a good one to stay in the promotion chase. After a Boxing Day win at Shrewsbury, I got up early the next day and caught the train south for an 11.30 morning kick off. The game was a 2-2 draw, but I remember it better for a couple of things. At Earls Court a mob of Portsmouth were chasing and getting the better of the very few Chelsea that were about. I can recall some Portsmouth lad all in Pink being…"very active"…. This went on until the cavalry arrived in the form of a tube from Victoria. Mr Pink then got active on his heels.
With it being an early kick off, drinking time was very restricted. We headed up to the Nell Gwynne, as it was nearer the ground than our 'local' the Kings Head. It seemed that just about everyone else had the same idea, for there were loads standing outside. In the bar, Jim ordered 8 lagers (2 each!) and 1 bitter. The barmaid poured the 8, and said "Bitters up the other end – I'll be back in a minute" At that point we picked up the Lagers and casually walked outside and drunk them! What she must have thought when she came back, I don't know!
Portsmouth bought a fair few with them, the North Stand was awash with them. The usual trouble erupted, and Plod piled in to deal with it. They began dragging out the Portsmouth trouble makers, and one of the first out was….Mr Pink! He stood out a mile in his Pink jeans and Pink Pringle jumper, there was nowhere he was going to hide from Plod. …Who's the wanker in the pink, who's the wanker in the pink…
Pringle jumpers and the like were the fashion of the day. We'd moved on from Denim Jackets, Donkey Jackets, Pilot (Flight) Jackets and were now wearing 'designer labels'. Lyle & Scott, Sergio Tacchini and Benetton were amongst the most popular. How many people had the white Benetton sweat shirt with the blue band across the chest? The Sergio track suit top, white with lemon? Not me. I was never really into it all. One of the Chelsea lads from Wellingborough spent so much on casual gear that he couldn't afford to actually go to the games! I preferred to save my money for better things, like Blackburn away in the FA Cup 3rd round! It was a cold, long way home in my cheap jumper after the 1-0 defeat.
The early part of 1984 saw our promotion push full steam ahead.. In late January the Baseball Ground saw the customary terrace fisty cuffs, then we beat fellow promotion hopefuls Sheff Wed 3-2 at a packed SW6. After the game I was in the Shires – the bar at St Pancras – when a mob of Chelsea steamed onto the concourse and straight into the Sheffield Wednesday who were waiting for their train north. The bar staff immediately shut the doors, no one in, no one out. We watched as the fleeing Wednesday were chased up the platform and onto the track. Plod eventually arrived and herded the Chelsea onto the Euston Rd. I supped up, and boarded the Sheffield bound train home listening to various Sheff Wed fans talking about what had happened. It seemed that every time this particular group had gone to SW6, they had ended up getting a hiding. One of them mentioned being chased through a Cemetery a couple of years previous… I sat there tempted to say it was in 1981 when they got a bit 'mouthy' in the Tournament pub at Earls Court, where I was drinking…
For away games we done the odd 12 seater minibus now and again, but with interest building because of possible promotion, (farking glory hunters!!!) we decided to get a bigger bus for the trip to Cardiff. Our normal bus driver, Jocky, kept going on about a bigger bus, as sometimes we'd have 15/16 on a 12 seater. He said the company he drove for had an 18 seater, so we booked it. On the morning of the game we were waiting outside our Pub when this 'thing' turned up. I'd never seen a bus like it. The best way to describe it is that its shape was very similar to the brown UPS delivery vans you see around! A large cube on wheels. The seats were like a normal service bus, pvc stretched over half an inch of foam. Even when we hit the M4 other Chelsea fans Cardiff bound were pointing and laughing at us. The Corby Chelsea flag on the back window was hidden…
I'd been to Cardiff a couple of times before, and knew that our Welsh friends were not exactly welcoming. This was confirmed before the game as we parked up outside Ninian Park. Running battles were already taking place in the large car park there. Plod eventually calmed things down, but as we were queuing up to get in, a mob of Cardiff ran into us. The turnstiles for the away end were right next to the ones for the home end that ran along the side. In the chaos that followed Clive and me went into the wrong turnstiles. I realised straight away, looked at Clive and told him to button up his jacket to hide his Chelsea shirt. Luckily no one saw us.
I then went into the toilets that were immediately by the turnstiles. On the other side of the wall I could hear voices…lovely, understandable, English ones. Looking up, I noticed there was no roof. A quick shake and I nipped out and told Clive the plan. That was to climb the wall and jump down into the Chelsea side of the toilet! We waited until there was no one in there, then with one foot on the urinal jumped up onto the top of the wall. When we got to the top, some Chelsea lads thought we were Cardiff, and started calling us all sorts of 'nice' things. Clive undone his jacket and revealed his Chelsea shirt. We jumped down, and went onto the terracing to look for the others. A close call…
Serious violence erupted in the seats to our left, where as well as a few seats were broken, so were a few Welsh heads. It seemed ages before Plod finally got a grip of the situation. On the pitch I was hoping Chelsea would get a grip. We were 3-0 down with probably 6/7 minutes left. Dixon netted, then Lee, then Spackers! 3-3, what a comeback! In the car park jubilant Chelsea chased the Welsh back to their Valleys, we jumped on our 'thing' and sang all the way home. Aweek later I bumped into Jocky who told me some sad news(!) The 'thing' we had gone to Cardiff in had been scrapped, they'd bought a 38 seater coach, and he'd provisionally booked it for Grimsby away! What a star he was.
The next 3 games bought 8 goals, with none against. The smell of promotion was strong, though it began to drift away a bit at a Fratton Park, Portsmouth. Standing on the open terrace that night I watched as we easily took a 2-0 lead. It was carnival time… until Portsmouth dragged it back to 2-2. I was still happy with the draw, it was one point nearer to me walking back into my Pub with my head held high. For 'our safety' Portsmouth Plod announced they were keeping us in after the game until they had cleared the home fans away from the area. This went on, and on, and on. It must have been an hour before we were let out. In that time some of the Chelsea who were in the seats had started to rip them out and lob them at the stewards and Plod who were on the pitch. At the back of the terracing there was further trouble with Plod, who had started to get the brunt of the frustration of some lads who were now worried about missing the last train to London. Eventually they let us all out, though Plod seemed to want to aggravate the situation by just picking on anyone and arresting them. I saw a fair few lads who were simply walking along doing nothing, then found themselves in the back of a Plod van. Karnts. No wonder they've lost the respect of the public. Luckily we found our car and got home at around 2am.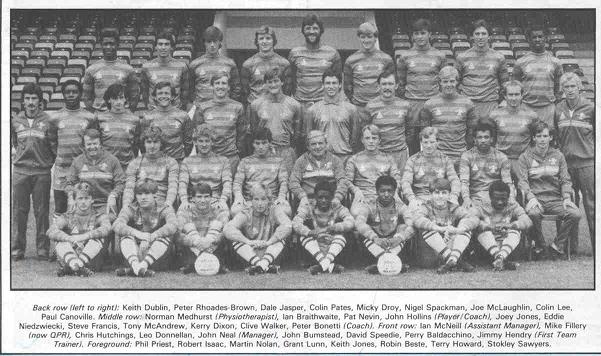 The following Saturday was Leeds at home, and when I got off the train at St Pancras the air was full of Plod sirens. Next door at Kings Cross, a group of Chelsea had welcomed a train load of Leeds fans to London. I made a mental note to my self that should Leeds win, be careful on the way back up to St Pancras! Leeds were hammered 5-0 and we were promoted/ There were chaotic scenes in the Shed, Pitch invasions and up into the North Stand, where the scoreboard took a few hits by 'objects' thrown from the Leeds fans. we all hate Leeds and Leeds and Leeds, Leeds and Leeds and Leeds and Leeds and Leeds and Leeds and Leeds, we all farking hate Leeds…
Our first ever live TV League game was Man City away, the following Friday. No one wanted to drive, everyone wanted to celebrate and have a drink, so we went up by train. We knew we wouldn't get back home that night and we'd be stuck somewhere on the rail system overnight, but we didn't care about that. We'd just been promoted, it was happy days! Manchester Police very kindly laid on buses from Piccadilly Station to the ground, so we jumped on one of them. We'd had a good drink on the train as we knew we wouldn't have much time when we got there. Someone who also had had a good drink was the lad who threw up on the bus. Everyone cheered as the bus went round a corner, the sick slopped to one side to the other as everyone put their feet up! The driver was in stitches, and said he'd just hose it down back at the depot!
In the ground we went in the seats, Chelsea seats we were told. Wrong information from Plod! We found ourselves along with about 300 or so other Chelsea in with the Man City behind the goal down the other end of the ground to where the main Chelsea were. The old woman with the bell sat just to our left. She rang that bell even though we told her where to stick it 100's of times! I suppose in a way she was just like the 'old' women who used to hang their badge infested scarves over the front of the East Middle at Chelsea (Helen 'the bell' died in 2005, and a minutes silence was observed before the Man City home game with Chelsea.) We won 2-0, and happily spent the night on Sheffield station, waiting until around 04.30 for the 'milk' train south. I've got the full 90 mins of that game on DVD and it's reminded me of what tremendous vocal support we had that night! A quality trip, one of the best!
On the Monday it was party time at Chelsea for the 3pm Bank Holiday visit of Barnsley. Before the game the ball was bought from the skies by a team of RAF parachutists. A large X was laid on the centre circle and they spiralled down from the heavens towards it. One of them totally misjudged the thermals or whatever, and sailed over the East Stand roof into Brompton Cemetery. Luckily he wasn't the one with the ball as we went on to win 3-1.
The following Saturday the pride of Donavon's fleet, Jocky's all new 38 seater, headed North up the A1 to Grimsby. We stopped for a piss break on the way up where I bought a local newspaper. In it was an article about 10,000,000,000 Chelsea fans were heading to Cleethorpes (where Grimsby play) and that the Pubs would be locals only. It was probably the usual 'Chelsea hooligans' rubbish, zzzzzzzz, but we decided not to take a chance of missing out on a pre match drink. We had plenty of cans on the bus, but at times you can't beat a Pub pint! Looking at the map, we decided to stop in a place called Louth, that was about 15 miles from Grimsby. Jocky reckoned that would take us about 30 minutes – allowing for his normal rant of "any of you karnts know where the ground is?
We parked down the road from a Pub and 3 of us went in to see if they would let a coach load of Chelsea 'hooligans' in. We didn't want to waste time getting everyone off the coach only to be refused entry. "No problem – I'll even knock up some sarnies!" was the reply. There was hardly a local in there. One man and his dog sat at the bar supping his half a bitter. As the morning wore on, more and more Chelsea came in, they'd seen our flag on the back of the bus and pulled in for a drink and a sing song. Who's that team they call the Chelsea…
Out the back of the Pub was a small beer garden, and next to that was a paddock with a miniature horse/donkey in. Apparently it was the Landlords daughters pet. We'd got up to many silly things in our travels – including Raz nicking a life size stuffed St Bernard from a service station – but Clive was about to top the lot. He climbed over the fence and jumped onto the poor animal and rode it around the paddock singing "we're the boys in blue Division Two…" The sight of Clive sitting on that it will remain with me forever! The animal seemed to love the attention as more and more Chelsea heard what was happening and had come outside. Cant see Tarquin and his mates doing that sort of thing today…
At around 1.30 we headed up into Grimsby. Plod directed us to the coach park and we strolled down to the ground. This was farewell to Division Two, and 1,000's had come to say 'goodbye and good riddance'. Grimsby Plod were totally unprepared by the amount of Chelsea who had travelled– don't they read the papers? Plod wanted everyone in the ground quickly, and when we explained we had seat tickets, they simply said "There's no Chelsea allowed in the seats today, you'll have to go on the terracing"
As we went through the turnstile we were met by a mass of bodies. We struggled onto the back of terracing which you could tell was more than full. To our right were some seats, with Chelsea sitting in them, seats where we should've been! As more and more boisterous Chelsea came in the crush got worse. At one point Grimsby Plod thought we were trying to invade the pitch, but they realised it was pure numbers causing problems, so they opened up the empty terracing that acted as a 'no mans land' between us and the Grimsby fans. We then decided to rip a small fence down that separated the seats from the terracing. It didn't take much and we climbed through and stood at the back of the seats. Even Jocky climbed through, we had 'made his day' by getting him a ticket. Most of the time he wouldn't come into the game, he'd just have a sleep on the bus or chat to other coach drivers.
Dixon scored the only goal in a 1-0 victory. That was enough to win the Division Two title despite Sheff Wed winning at Cardiff, as we had a far superior goal difference. We were CHAMPIONS. Ok, it was only Division Two Champions, but promotion felt great! I didn't want the season to end, so we decided to lengthen it by a few days and go to Oxford for an end of season friendly.
I was 18 when we got relegated I was now 23, 5 of my prime years spent going to exciting places like Barnsley, Rotherham and Oldham, whilst my mates tasted Old Trafford, Anfield and various European jollies. That night coming back from Grimsby was great. To walk in the Pub knowing that after 5 years I could at last say "I'm of to Anfield tomorrow" or "we've got Man Utd at home" At the back of my mind though was that element of doubt that Chelsea would stay up. Could Dixon make the grade in Division One? Nevin? Could he juggle the ball past First Division defenders? Something said to me it was going to go all wrong….
From the 50p programme…
Sponsor the match ball for £125…
Chelsea Club (Members only) Social events
SEP 21 DISCO (all @ the Chelsea Venue)
OCT 12 DISCO
NOV 16 DISCO
DEC 7 DISCO
DEC 16 XMAS DINNER/DANCE
JAN 4 NEW YEAR DISCO
FEB 14 VALENTINE DISCO
MAR 21 DISCO
APR 14 SPRING DISCO
MAY 18 PLAYER OF THE YEAR (£20 @ West Centre Hotel)
£5 got you a message of 15 words on the Electronic scoreboard…
579 seats reported damaged at Portsmouth v Chelsea
Rip
Richard Aldridge (fan attacked in Huddersfield, a man later received 4 years for manslaughter)
Eddie Heath (chief scout 1968-80)
Harry Medhurst (Goalkeeper, Trainer, Physio 1946-1975)
Admission prices
East UPPER… £5
East MIDDLE …£6
East LOWER…£4
SHED…£2.50
Benches…50p
***due to the legal battle with SB Properties, seat prices were increased by £1, Shed & Benches by 50p from February 25th…
Born during 83-84…
Carlton Cole
Arjen Robben
Lenny Pidgeley
Joel Kitamirike
Filipe Oliveira
Posted by Corby
---
(Cover photo posted with many thanks to John Ingledue / Lower Block)
[These excellent photograph prints, including many not shown here, will be available to purchase very soon]
---


---
'Chelsea Supporters Group' can also be found on Twitter and Facebook